There may be some confusing terminology around webcams and internet cameras, and it's hard to know sometimes if we are talking about the same thing when it comes to IP cameras. IP cameras are "internet protocol" cameras, and they are sometimes referred to as webcams. Most computers and laptops today will have a built-in IP camera to connect users during video conferencing on platforms like Skype, Facetime, Microsoft Teams, and Zoom. These cameras are made to enhance our communication with one another when we stay in touch with our families, coworkers, and other important people. IP cameras are usually attached or integrated at the top of our computer screens or monitors. However, they may be placed wherever you need them for surveillance. This guide will familiarize you with IP cameras and their uses.
Related: Security Camera Video Loss: Reasons & Solutions
What is an IP Camera?
An IP camera is a webcam used to relay video over a local area network (LAN). They can also be used to transmit video over the internet on platforms like Skype. They may also be referred to as network cameras due to their connective nature. IP cameras are commonly used for home or business surveillance and security. They are a great tool for this as recording video is easy without the need for a local recording device. IP cameras may be placed around your house or business to keep an eye on things while you are away or when you are in other places in the house.
Need the best security system in Austin Texas? TriStar Security Services can provide all your surveillance and security needs while giving you the best tips on keeping your property safe.
How does an internet camera work?
An IP camera works by transmitting your video data over a network (WiFi, Ethernet, USB) instead of using a clunky video cable and DVR. Everything you need to transmit video is right there in your IP camera and computer combination. IP cameras are different than traditional CCTV cameras because they can compress the video file size to be transmitted wirelessly. Some cameras will have everything you need to transfer and record data, but you may need a network video recorder (NVR) if several are connected.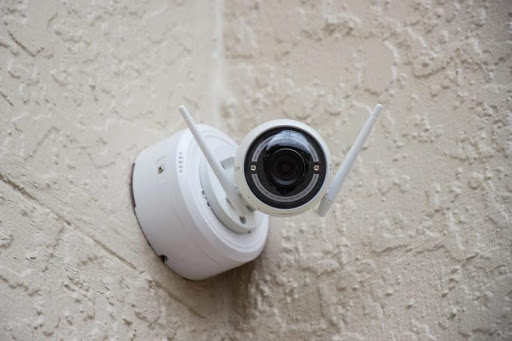 Types of IP Cameras
Fixed IP cameras are stationary once they are installed inside of your home or business. They may be installed in the ceiling to provide a birds-eye view of everything happening.
Dome IP cameras are very popular as they provide a low profile, safe, and discrete view of everything happening. They are mounted to the ceiling for the best picture, and they have a protective cover for the camera in case anyone tries to break them or obscure their vision with spray paint.

Wireless IP cameras are ideal for surveilling large areas like parking garages, schools, or public transportation stations. These cameras don't require an ethernet cable for connectivity and are instead connected via WiFi.
Indoor IP Cameras / Outdoor IP Cameras
Depending on what model IP camera you are looking for, you will need to consider indoor vs. outdoor capabilities. Cameras meant for outdoor use will have more protection from the elements such as waterproofing. As such, these models may be more expensive.

PTZ IP Cameras (Pan/Tilt/Zoom)
These cameras use a dynamic range of motion to allow a person monitoring surveillance to get a better look at a situation. These are some of the highest-end IP cameras as they offer the most vision for your business.
Related: How to Select A Business Security System
Business & Home Use
IP cameras are immensely popular in both business and home use. They offer less hassle than CCTV and less cabling to deal with. These cameras can act as a deterrent to shoplifting, burglary, break-ins, and more.
How do I view the live feed if I am away?
One of the benefits of having an IP camera surveillance system is being able to keep watch on an area from anywhere in the world with an internet connection so you can have a safer home or business. There are a few ways that you can configure your cameras to be viewable from anywhere on your computer or mobile device.
The simplest way to stream the surveillance from your IP cameras will be to use the camera company's built-in client or streaming software. Many companies will have an easy-to-use app that you can stream footage so you can view your home or business from anywhere in the world. If you are seeking an easy option like this, make sure you check the product beforehand to ensure it includes a great user experience when it comes to viewing footage.
You also have the option to do what is known as "Port Forwarding." Your IP cameras will have a unique IP address that you can find via the software you should have installed from the same company as the camera. Find your router's external IP address/WAN by using the link in this sentence. Then, find your camera's port numbers (by accessing the settings in the manufacturer software) and forward them to your router (by logging into your router settings via your router's web client. Finally, you will be able to copy and paste the URL into your search bar that will be comprised of the WAN IP address and port number. This all allows you to view your cameras without the built-in software from the camera company.
Accessing From a Mobile Device
When accessing your IP camera feed from a mobile device, ensure that you are on a private internet connection. Also, ensure your mobile device is password protected and secured at all times.
Looking For The Best Security Systems In Austin Texas?
What Equipment or Software Do I Need?
Besides your IP cameras, you will need little additional equipment or software depending on the scope of your surveillance. It will be easiest to have access to your PC and a Dynamic Domain Name Server (DDNS) to provide a static IP for your cameras. If you need to record and store video from your IP cameras, you will need NVR software installed on your computer or have access to an external NVR.
Related: Do Parking Garages Have Cameras? What You Need To Know