When it comes to our homes, the safety and security of our family is everything. Being educated on what it takes to protect our homes and families with a home security system is especially important now with newly available technology solutions. By learning about home security, we can rest easier at night and while we are away for work, knowing our homes and property are safe from would-be intruders. 
Related: Home Surveillance System
Why home security matters
The place where you live should be your castle where you can relax after a hectic day of work and traffic — a bubble where you and your family can rest at ease undisturbed. This is what we all want, but the truth is that your home is not as safe as it could be. 
Homes that don't have security systems are 300% more likely to be burglarized or broken into. This staggering statistic comes as a shock to many homeowners, especially when paired with the fact that there are 2.5 million home burglaries per year, 66% of which are home invasions or break-ins.
What exactly is a home security system?
A home security system is a combination of security methods that make us safer, such as video surveillance, alarms, and motion detection. A home security system is comprised of the electronic security equipment put in place to deter and prevent burglary, break-ins, and even fires or carbon monoxide poisoning.
How home security systems work
Home security systems work by combining various electronic systems such as sensors, cameras, and others to make a safer and more secure home. These components communicate to a central panel or hub where you can monitor and control your home's security measures. When a sensor or camera detects something, it will alert you with an alarm, ping on your phone, or will alert a security professional monitoring your system. 
How home monitoring works
Home monitoring is done by viewing your security interface, which may be an app on your phone or a central monitor in your home, showing your property's surveillance. These systems should be monitored and online 24/7 and set up to notify you or trigger an alarm if someone is trying to break into your home.  
Related: Types Of Surveillance Systems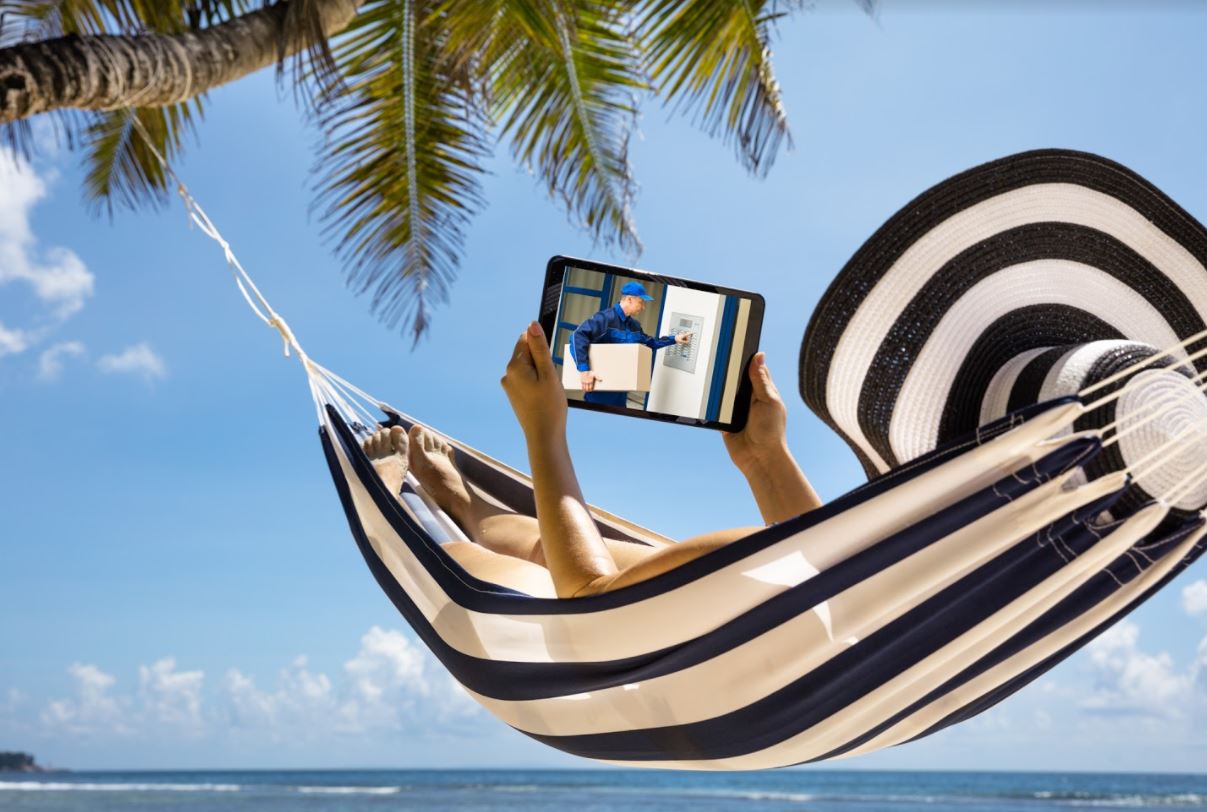 Conduct a home security assessment
You can conduct a home security assessment yourself by taking a survey of things such as your home's exterior and what looks like the best way to break in. You can landscape your yard to make hiding in it very difficult. Survey things like locks on your garage and if you have motion detecting floodlights installed. The best way to conduct an assessment, however, is to hire a professional security consultant that has years of experience identifying vulnerabilities and providing the best systems to prevent burglary. 
Home security assessment Checklist 
Property perimeter

– Paying attention to details such as having a well-lit property and home, neatly landscaped yard, fencing, and locked gates are an excellent way to boost security. 

Garage or Sheds

– Take account of the security measures for your garage or other exterior buildings that can often house expensive items. Are they adequately locked with exterior motion detecting light features? 

Physical barriers

– Take account of how strong the doors and deadbolts are on every entry into your house. Also, ensure that you have locking windows with sufficiently thick window panes. 

Interior Security

– Do a survey of your interior security plan by accounting for all measures like your home defense plan, safes, and existing security systems and hub. 
Looking for the most trusted professionals to install a security system in your home? Contact TriStar Security Services today for a consultation. 
The Benefits of Having a Home Security System
Peace of mind
Knowing that a burglary occurs every 13 seconds can put anyone on high alert, but knowing that you have a superior home security system can put you back at ease. There is no price you can put on peace of mind from knowing your family and home are safe, even when you are out of town. 
Financial savings
The average burglary costs families almost $2,500. Having a home security system, especially in higher-risk areas, can save a great deal of money. 
Controlling your home from afar 
A huge benefit of home security systems is the ability to monitor your home from afar, whether that is when you are at the office or on vacation. Having the ability to have eyes on your home and know everything is safe is a great feeling. 
Protects your family when you're away
You can't always be present to protect your family. If something happens when you are away, a home security system can keep your family safe by alerting them or the authorities to the presence of an intruder. Once most burglars hear an alarm or see the features of an advanced security system, they will probably leave as quickly as they can. 
Want the peace of mind from a monitored security system? Call TriStar Security Services today to get started. 
Types of Home security systems
There are a few types of home security systems you can consider when making the choice of what will best suit your home. It would be best if you made this decision based on things like where you live and how much time you have to attend to your own system. 
Professional security systems
Professional security systems such as TriStar Security Systems are an ideal way to ensure your home is as safe as it can be. Trained security consultants will help you identify unthought-of risks, install equipment, and can even monitor your systems for you. TriStar Security will keep your home protected around the clock, giving you and your family complete peace of mind. 
DIY home security systems
DIY home security systems may be a good choice in the safest of neighborhoods and gated communities. A DIY home security system may be good for basic home surveillance and monitoring, but it can often leave gaps in security where there are still exposed areas of your home to be exploited. 
Self-monitored security systems
Self-monitored systems can be a good choice if you have the time to be checking in with your house often. These could be a great choice for those who are usually home or have a family member who is, as it can be demanding to keep an eye on your home at all times from afar. 
Is a home security system worth it?
A home security system is worth every dollar put into it if you and your family's safety is your top priority. 
How do I buy a home security system?
Buying a home security system is as easy as contacting the professionals at TriStar Security Services. A professional service will offer discreet, trustworthy consultation, installation, and monitoring.
Related: The Importance Of Correct Security Camera Installations