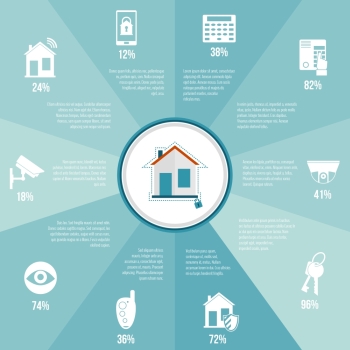 Home security is a constant worry for homeowners, especially in case where all adults in it are away earning a living, while the home is either unpopulated or has children or elders who need to be supervised or looked after. The changing world of technology has stepped in to the breach and made it possible for people to use their Smart Phones to remain in constant touch with their homes and ensure or oversee its security.
Mobile applications, or apps as they are more commonly referred to, are the latest in technology that can help out in home security. In the past, security systems had a requirement for the homeowner to set it, before leaving the home, and then hope for the best, and its ability to warn of intruders who attempted to breach its security. Smart Phone apps nowadays can be used to arm and disarm any home security system with just a swipe of the fingers.
Most of these systems allow you also to watch live recordings of videos of areas covered by such devices, on the phone, even while you are on the move. Some of them are even combined with apps that allow you to turn on lights in a home, which will give any intruder a sense that the home is occupied, thus adding to its security. Others will even allow you to switch on HVAC devices, kitchen appliances and control thermostats. This allows you to come into a home that is inviting and with a meal ready and waiting. These mobile best home security apps help you to stay in touch with your home, from any location and give you a lot of comfort.
Most of these best home security apps require web-enabled devices, something quite easy in this day when almost everyone has an iPhone, an iPad, an Android or Blackberry. You can also decide on the level of control that you require or opt for complete automation of all home security devices, and it is up to you to find the best home security apps depending on your requirement.
Most of these apps have been devised by home security companies, as ones that specifically suit the systems that they install. These apps are available to all people who have had their systems installed in their homes. The advantage to customers here is that the company constantly updates these apps and ensures that the updates are always available to all their customers. Most of these updates are based on needs expressed by customers, and as they are specifically tailored to the system installed, they are normally flawless in their performance.
There are however many security companies that use security apps designed by others, but have to constantly ensure that their systems are compatible with the apps or vice versa. Most of these security apps allow you to lock and unlock doors, view live videos from cams installed in the home or its surroundings, allow you to disarm or arm any alarm system remotely.
Most of them will also allow you to program and set thermostats and control lighting or to operate small appliances. You can also get apps that will give automatic alerts on phones or computers, and view video recordings of any events. There are others that will pay special attention to areas in the home that have gun cabinets, or medicine and liquor cabinets. You may also be able to control cameras, so that there is better surveillance, if any need felt for a change. You can even communicate with anyone who has rung your doorbell and talk with them, even though you may not be at home.
People who have such apps installed are able to carry the security of their home in the palm of their hands. Earlier, a number of systems were available that could remotely control home security through the use of the internet, but these mobile phone apps do not require internet connectivity and can be used even if you are away on the ocean on a cruise. These apps can even allow you to take photos of the areas covered by cameras in their homes. This can be especially useful if they need to send the information to any person to help them monitor the security of their home, when they are absent.